Books
Books for everyone. What do you like to read? What's new at the library. Reading suggestions.
---
AudioBooks and EBooks

Our patrons have access to ebooks, audio books, music, movies and more by using the following services: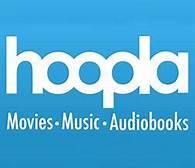 Enjoy ebooks, audiobooks, comics and graphic novels, music, movies and more! With unlimited access to Hoopla titles, no lines, no waiting. Limit to 3 titles per card, per month. The checkout periods are:
Audio, ebooks and comics: 21 days
Music: 7 days
Movies and TV shows: 3 Days
How to get started:
Downloaded the app or go to the website. First you will need to create an account. Create an account by using your email and a unique password.
To access the books, movies and more available to our patrons, select the Hampton Falls Free Library and complete your login by using your library card number and library password.
Access to thousands of audio and ebook titles. You are allowed 3 check outs at time and a check out period of 2 weeks. The books will automatically be returned at the end of the lending period or can be renewed if available. There is no limit to how many books you can take out in one month.
How to get started:
Once you've downloaded the app or are at the website, to login select the Hampton Falls Free Library and log in using your card number and library password.
---
Interlibrary Loan
Order Books and Materials from Other Libraries
We can order books and materials that we do not own from other libraries in New Hampshire through the statewide library catalog, NHAIS. If the other library is willing to lend, we will have it delivered here at no cost to you. First, check the Hampton Falls Free Library to confirm that we do not own the item. You can place an interlibrary loan (ILL) order in one of three ways:
Fill out an ILL form at the circulation desk, with the title, author, your name, library card number and phone number.
Call the library at 926-3682 and we will take your order over the phone.
Send us an email request at our address hamptonfalls.library@comcast.net
In all cases, please provide accurate information for author, title. and format.
---
Newspapers
For In-Library Use:
The Hampton Union, The Carriage Town News, The Union Leader and The Boston Globe
---
NoveList Plus & NoveList K-8 Plus
NoveList Plus and NoveList K-8 Plus are powerful search tools to help you find books and booklists based on titles, authors, interests, and genres.
You can access NoveList Plus and NoveList K-8 from our Catalog in the Library only. You must be logged in to the Catalog with your library ID and 7 digit phone# as your password. (if you are not 603, try your full 10 digit phone#)
---
Movies
Movies, Foreign Films, Documentaries, TV Series - for all ages. Find out what is new at the library.
---
Magazines
We have many popular magazines for reading in the library or for checking out with your library card. See the Catalog.
Download popular magazines to read on your mobile device using Libby.
---
Learn Something
Great Courses on Hoopla
Find your Ancestors:
Ancestrylibrary.com
Available for in-Library use only.

Ancestry Library Edition contains billions of records in census data, vital records, directories, photos, and more. Collections are available for the United States, Canada, the United Kingdom, military records, and multimedia files.
Contact the Library for information on login and password.
This genealogical database provides access to the complete U.S. Federal Census, 1790-1940, and a collection of 28,000 word searchable family and local history books.
Local History, Cemetaries of Hampton Falls
---